Oxygen re-teamed the University with Royal Conservatoire of Scotland
Students at the University of Edinburgh reunited with the Royal Conservatoire of Scotland to create The Heavenly View, a Fringe performance inspired by Mahler's 4th Symphony.
About the show
Following last year's well-received production of Colours, the 2014 Oxygen season returned to the Fringe with a show that combined dance, images, and music inspired by Austrian composer Gustav Mahler.
The production brought together students from a variety of courses and schools at the University: dancers from Moray House School of Education, music composers from Reid School of Music, and costume designers from Edinburgh College of Art.
The Royal Conservatoire of Scotland provided the recording of the second and fourth movement of Mahler's 4th Symphony, which featured in the show.
School collaboration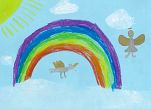 In creating The Heavenly View, the 2014 team also collaborated with students from four Edinburgh primary schools.
Dancers from Moray House talked to students in order to find out what a modern version of a child's view of heaven and hell is.
Children said they thought heaven would be a place where they would be happy and skip around and even eat pearls from golden spoons.
The children's gestures and movements when describing heaven inspired the dancers' choreography.
The students were also asked to draw pictures and write poems about the subject. Their artwork, which will be projected during the show, inspired the costumes the ECA students designed.
Performances
The Heavenly View was performed 11-15 August at the Underbelly in Bristo Square (Venue 300).
This article was published on