Edinburgh students performed at Fringe
Student groups performed in plays, musicals, operas and comedy acts.
Students at the University of Edinburgh have the unique opportunity of not only having the Fringe at their doorstep, but also having the chance to take part in it as performers.
EUSA Societies
A selection of arts groups from the Edinburgh University Students' Association put on shows.
The Edinburgh University Theatre Company (EUTC) performed The Lift, a comical tale of what happens when nine characters are forced to wait together in a broken lift until the mechanic comes.
I joined the EUTC looking for a casual hobby. Nine months later, I had tour managed the Improverts, produced two shows, directed another, and managed to get one of my scripts put on at Fringe. The number of no-strings-attached opportunities the Company have given me is truly staggering; the generous funding that the university unrelentingly inject, equally so.
Also performing at Bedlam Theatre, The Improverts returned to the Fringe for their 25th Anniversary, making it the Fringe's longest running improvised comedy show.
The Edinburgh University Savoy Opera Group put on a production of Avenue Q. The Tony award-winning musical follows the story of a group of cute but crude puppets.
Theatre Paradok staged an original musical adaptation of F. Scott Fitzgerald's The Diamond as Big as the Ritz titled The Really Big Diamond.
Edinburgh Studio Opera performed Fury and Flirtation: Opera Scenes, a collection of opera's best loved arias and scenes.
The University's comedy troupe Edinburgh Revue put on a series of free stand-up shows in August.
Societies Guide
The Edinburgh University Students' Association has over 240 student societies.
Student production company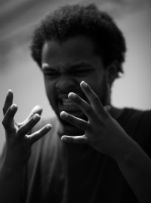 After being involved with Edinburgh's theatre societies, students Christopher Sladdin, Elske Waite and Henry Conklin decided to form their own production company while attending the University of Edinburgh.
Their company, Gin & Tonic Productions Limited, put on a performance of Shakespeare's Hamlet during the Fringe.
Christopher, Gin & Tonic's business director, said their company sees the Fringe "as a fantastic opportunity with which to showcase the incredible talent we have in our company, much of which has been sourced from within the University of Edinburgh's community".
Praise for student shows
Edinburgh students' shows received rave reviews.
Broadway Baby gave Avenue Q five stars, stating that "There is a fantastic standard of skill shown here by all involved and the performance is professional throughout".
Avenue Q review on Broadway Baby website
Broadway Baby also praised Hamlet, giving it four stars and noting that students "Conklin and Waite preside over an impressive, unapologetically high octane interpretation of the Bard's most famous play".
Related Links
This article was published on