Alwaleed Centre at the Festivals
The University's centre for Islamic awareness hosted and sponsored a variety of events at the 2014 Book, Fringe, and just Festivals.
Events centred on poetry, stories, panel discussions, calligraphy and art.
Book Festival
The Alwaleed Centre sponsored two events at the Book Festival.
On 14 August, Book Festival illustrator in residence James Mayhew recounted some tales from 1001 Arabian Nights, illustrating the scenes as he went along.
On 15 August, Justin Marozzi, author of Baghdad: City of Peace, City of Blood, discussed the history of the Iraqi capital and how it has transitioned from one of the greatest cities on Earth to a place known for sectarianism and misrule.
Fringe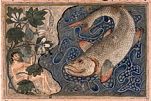 The Alwaleed Centre collaborated with the Centre for Research Collections to curate an exhibition featuring The World History of Rashid al-Din, one of the masterpieces of medieval Islamic manuscripts.
This year marked the 700th anniversary of its production. The manuscript is generally considered the first illustrated history of the world and one of the University of Edinburgh's most treasured artefacts.
The exhibition, open daily Monday to Saturday in August, featured 15 folios from the University of Edinburgh Library's manuscript.
Rashid al-Din's masterpiece offers fascinating insight into historical and artistic movements of the time. As well as learning about global events in medieval history, visitors are sure to be impressed by the lavish illustrations and calligraphy.
just Festival
The Edinburgh festival focusing on diversity and spirituality featured three Alwaleed Centre events.
On 20 August, a just Festival panel discussed the Church of Scotland's report 'One Scotland, Many Cultures' and the 'Cultural Heritage Project' addressing first-generation immigrants to Scotland. Panel members considered how the relationship between host and immigrant communities requires a continued willingness to be counter-cultural and embrace the possibility of transformation.
On 23 August, Francesco Stermotich-Cappellari, PhD researcher at the Alwaleed Centre, led a visual journey into Islamic calligraphy and spirituality, focussing on the contemporary Turkish calligraphic tradition in Istanbul. Turkish tea and baklava were provided at this free event.
Information on just Festival website
On 24 August, Scottish poet Tessa Ransford and Palestinian poet Iyad Hayatleh read from their collaborative project Rug of a Thousand Colours, a collection of poems in English and Arabic inspired by the Five Pillars of Islam. Although from very different backgrounds, the two poets form a dialogue which is interwoven throughout the poems creating a vivid tapestry of ideas.
Related Links
This article was published on