Edinburgh Entrepreneurship Club hosted Fringe talks
The University's active networking club held three talks with professionals in creative fields.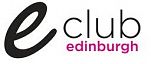 Directors of the Edinburgh International Science Festival and Creative Edinburgh, as well the Head of Marketing and Innovation at Festivals Edinburgh, joined the E-Club to discuss their companies from a business perspective - how they got started, how they manage their company, how they grow their company and their aims for the future.
After their talks, audience members had the chance to ask the speakers any questions.
E-Club throughout the year
While this was their first event series at the Fringe, the E-Club hosts similar talks all year round.
The Club is open to everyone and hosts speaker events every one to two weeks. All talks are followed by a drinks reception.
Fringe talks
James McVeigh - Head of Marketing and Innovation at Festivals Edinburgh
Tuesday 5 August 2014, 7.00pm - 8.00pm
Business School, George Square, EH8 9JS
Janine Matheson - Director of Creative Edinburgh
Monday 11 August 2014, 7.00pm - 8.00pm
Business School, George Square, EH8 9JS
Dr Simon Gage OBE - Director of the Edinburgh International Science Festival
Thursday 21 August 2014, 7.00pm - 8.00pm
Business School, George Square, EH8 9JS
This article was published on