The University Secretary
The University Secretary is Secretary to the University Court, the University's governing body, and has overall responsibility for a range of central professional services.
These include: communications and marketing, development and alumni, international engagement, student services, governance and legal, and strategic planning.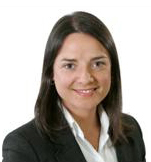 Leigh Chalmers
Leigh Chalmers was appointed as University Secretary in 2022.
A graduate of the University, Ms Chalmers has been the Director of Legal Services at the University since 2014, more recently taking on the role of Deputy Secretary, Governance and Legal.
She has a background in the legal sector and was a partner in a law firm before joining the University. She has extensive experience of providing legal advice to the higher education sector in Scotland.
This article was published on