Appointment: Louise Jackson
The School of History, Classics & Archaeology has appointed Dr Louise A Jackson as Personal Chair of Modern Social History.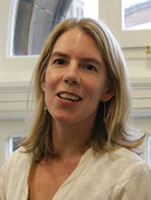 Dr Jackson joined the University in 2005 as a lecturer in modern social history and was promoted to Reader in 2010.
Research
Dr Jackson's research is concerned with histories of women and gender in modern Britain.
Her other research interests include histories of policing, crime, deviancy, the criminal justice system, childhood, and youth and child protection.
She is the co-editor (with Gordon Johnston) of Social History, the international peer-reviewed journal.
Biography
Dr Jackson studied modern history at the University of Oxford and women's studies at the University of Exeter. She gained her PhD in history at the University of Surrey, Roehampton, in 1997.
Before joining the University of Edinburgh, Dr Jackson was a lecturer in history in the School of Cultural Studies at Leeds Metropolitan University.
Related Links
This article was published on