Personal Chair: Martin Hogg
Martin Hogg has been made Personal Chair in the School of Law.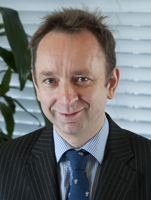 Professor Hogg was educated at George Heriot's School, Edinburgh.
He gained his LLB, LLM and PhD from the University of Edinburgh.
Having qualified as a solicitor, he returned to the University in 1995 to take up a full-time lecturing position.
His teaching and research interests lie in all aspects of the Law of Obligations, one of the component private law elements of the civil system of law.
Professor Hogg holds a number of appointments external to the University, including Governor of Dollar Academy and Fellow of the European Centre of Tort and Insurance Law. He is a Freeman of the City of London.
This article was published on