Key human genetics appointment
Professor Wendy Bickmore has been appointed as Director of the University's Medical Research Council (MRC) Human Genetics Unit.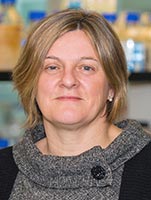 The MRC Human Genetics Unit is a partner in the Institute of Genetics & Molecular Medicine (IGMM).
The unit is at the forefront of research into the genetic mechanisms underlying human disease and associated biology, and the translation of this knowledge into patient benefit.
Its work covers the themes of developmental genetics, common disease genetics, chromosome biology and models for human genetic diseases.
Exciting time
Professor Bickmore will take up her new post in August.
She succeeds Professor Nicholas Hastie, who will step down as its Director but remain as Director of the IGMM.
This is an exciting time for human genetics, with large-scale genome sequencing set to impact on clinical practice. It will be a great privilege to lead the MRC Human Genetics Unit in its aim to understand how DNA sequence variation influences our biology and contributes to disease.
Expansion
Professor Bickmore is currently Head of the Chromosomes and Gene Expression Section in the MRC Human Genetics Unit.
Over the past five years, she has expanded the unit's research portfolio by recruiting new groups in the areas of genome organisation, epigenetics and RNA biology.
She has written more than 140 peer-reviewed papers in human molecular genetics, cell biology and epigenetics.
Her latest research focuses on how the spatial organisation of the cell nucleus influences genome function in development and disease.
Professor Bickmore is an outstanding scientist and we are delighted that she has agreed to lead the MRC Human Genetics Unit. This Medical Research Council unit is the largest in the UK and is a flagship research centre for the University and the MRC.
Related Links
This article was published on