Appointment: Robert Henderson
Professor Robert Henderson has been appointed Personal Chair of Electronic Imaging in the College of Science & Engineering.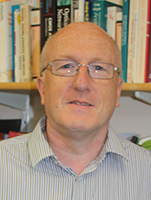 Professor Henderson leads the CMOS Sensors and Systems Group in the Institute for Integrated Micro and Nano Systems at the School of Engineering.
The group works on the development of systems based on sensors implemented in standard Complementary Metal-Oxide-Semiconductor (CMOS) process technologies.
Career
Professor Henderson gained his PhD from the University of Glasgow before becoming a research engineer at the Swiss Centre for Microelectronics in Neuchatel. There he worked on low-power sigma-delta analogue-to-digital and digital-to-analogue converters for portable electronic systems.
In 1996 he was appointed senior Very-Large-Scale Integration (VLSI) engineer at VLSI Vision Ltd, in Edinburgh, and worked on the world's first single chip video camera.
In 2000 he became principal VLSI engineer in STMicroelectronics Imaging Division and designed the first image sensors for mobile phones.
Professor Henderson joined the University of Edinburgh as a lecturer in 2005 and progressed to senior lecturer and then reader, leading research in CMOS single photon avalanche diodes (SPADs).
In the MegaFrame EU project he developed the first SPADs in nanometer CMOS technologies. These SPAD detectors are now being commercially exploited in laser autofocus systems for mobile phones.
Research
Professor Henderson's research team has developed a number of ultra-high speed, single photon-sensitive cameras and sensors. These have applications in time-of-flight 3D imaging, positron emission tomography, time-resolved live-cell microscopy, visible light communications and bronchoscopy.
In 2014, Professor Henderson was awarded a prestigious European Research Council advanced fellowship.
He is married with twin boys and enjoys hillwalking and classical music.
This article was published on