Newton Fellowships awarded
Three Newton International Fellowships, given to the world's most promising early-career academics, have been awarded to researchers being hosted by the University.
Dr Shaena Montanari, Dr Michele Ducceschi and Dr Samuel Rund have been selected for the Fellowships from the Royal Society and British Academy.
The Fellowships are part of a government initiative to ensure the UK engages with the world's most promising academics. They provide opportunities for researchers working overseas to conduct world-class research at UK institutions.
Each Fellowship includes funding support for a two-year placement, worth around £100,000.
I am delighted that three Newton International Fellows have opted to hold their prestigious fellowships in the College of Science & Engineering at Edinburgh. These world-leading young scientists will enrich our community and we look forward to supporting them and their research.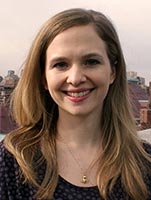 One to watch
Dr Montanari is an American academic working as Columbia Science Fellow at Columbia University and as postdoctoral researcher at the American Museum of Natural History.
She was named 'one to watch' in the 2015 Forbes 30 Under 30 list of young scientists who are changing the world.
Her research will develop isotope models to understand the dietary radiation of mammals following the dinosaur extinction.
Acoustics and audio
Dr Ducceschi is an Italian postdoctoral researcher at the Paris Institute of Technology.
Working within Edinburgh College of Art in the College of Humanities & Social Science, he will join the University's Acoustics and Audio Group, based in the School of Physics & Astronomy, to investigate the real-time sound synthesis of impacted string instruments with sophisticated nonlinear contact laws.
Investigating malaria
Dr Rund, an American academic, has been at the School of Biological Sciences since April 2014.
His research investigates the effects of light and time of day on malaria-transmitting mosquitoes.
This article was published on