Appointment: Elizabeth Bomberg
The School of Social & Political Science has appointed Professor Elizabeth Bomberg as Personal Chair in Environmental Politics.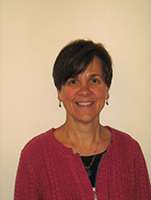 Professor Bomberg is Deputy Director of the Global Environment & Society Academy and programme director for MSc Global Environment Politics.
She is also the School's Director of Undergraduate Studies. She has developed several innovative teaching projects with students and leads on widening participation initiatives.
Expertise
Professor Bomberg's area of expertise is comparative environmental politics and policy, with a substantive focus on energy, climate change and sustainable development.
She is currently researching the politics of shale, with a particular emphasis on protest, regulation and risk, and is involved in a Research Council project on church-based climate activism.
Biography
Professor Bomberg was born and educated in California, studying at California State University and the University of California.
She is a keen teacher, researcher and knowledge exchange advocate and has received several teaching awards.
Her previous research posts include the University of California, Berkeley, and the Centre for European Studies in Brussels.
Related Links
This article was published on