Appointment: Sadegh Khochfar
Sadegh Khochfar has been appointed Personal Chair of Theoretical Astrophysics in the College of Science & Engineering.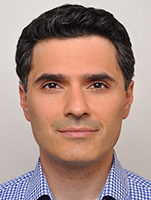 Research
Professor Khochfar's research focuses on the formation and evolution of galaxies and black holes.
He uses a combination of analytical models and numerical simulations on supercomputers. His recent focus has been the birth of the first galaxies and black holes in the early universe.
Biography
Before joining the University of Edinburgh in 2013 Professor Khochfar led an independent research group at the Max Planck Institute for Extraterrestrial Physics in Garching, Germany.
He was also a post-doctoral researcher and departmental lecturer at the University of Oxford, a visiting lecturer at Yonsei University, Seoul, and a visiting scientist at the Space Telescope Science Institute.
He received his PhD from the University of Heidelberg in 2003 and was awarded the Otto Hahn Medal of the Max Planck Society for his work on the formation of elliptical galaxies.
He has strong international links and collaborations with the US, Germany, France and Japan.
Professor Khochfar was born and raised in Frankfurt to parents of Iranian descent. He enjoys fencing.
Related Links
This article was published on