Appointment: Mark Inall
Mark Inall has been appointed Honorary Professor in the College of Science & Engineering.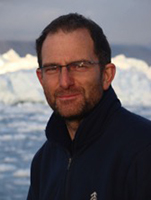 Professor Inall is Associate Director and Principal Investigator in Physical Oceanography at the Scottish Association for Marine Science (SAMS).
Research
Professor Inall researches marine mixing processes in the broader context of ocean shelf interaction in mid and high latitudes. His specific interests are in internal wave generation by tidal flow over topography and the subsequent decay to turbulence.
More recently, and working with the School of GeoSciences, his interests have moved towards teleconnections - causal links spanning thousands of kilometres and taking effect over long periods - between small-scale movements in the oceans and atmosphere and large-scale patterns in the global climate system.
Biography
Professor Inall gained his BSc in Physics from the University of Edinburgh, and gained his MSc and PhD in Physical Oceanography from the University of Southampton.
Since 1998 he has led a marine physics research group at SAMS. He co-developed Scotland's first Marine Science BSc for the University of the Highlands and Islands.
This article was published on