Marjorie Ritchie (1948–2015)
Roslin Institute colleagues remember Marjorie Ritchie, an animal scientist who was involved in the creation of Dolly the sheep.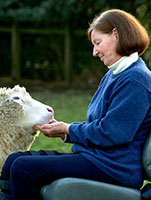 Marjorie's role in the creation of the world's first mammal cloned from an adult somatic cell - as a key member of the surgical team - is remembered in a portrait held in the collections of the Scottish National Portrait Gallery.
Professor Sir Ian Wilmut, who led the team, credits Marjorie's expertise as a vital factor in the project's success.
Marjorie joined the Animal Breeding Research Organisation - the predecessor to the Roslin Institute - in 1966.
Her career began in the wool technology lab where she was involved in research into different fibre types.
She later joined the institute's Farm Animal Department - based at Dryden Farm - rising through the ranks to become a senior scientific officer in charge of the Large Animal Unit.
In addition to her role in scientific research, Marjorie acted as a mentor for scores of young scientists and technicians. Her influence is recognised by scientists in laboratories and institutes worldwide.
A love of animals was the major driving force behind the almost 50 years she spent working at the Roslin Institute.
Marjorie had multiple sclerosis for 18 years. When her illness progressed, she became part of the Quality Management Team with responsibility for data management. She continued in this role until December 2014.
Born Marjorie Fordyce in 1948 to Helen and James, Marjorie grew up in Edinburgh with brothers Ronald and Forbes.
She attended Forrester High School, leaving in 1966.
In 1988, she married Bill Ritchie, a fellow Roslin scientist and member of the Dolly team.
This article was published on