Jacobus Potter (1924–2015)
Colleagues in the College of Medicine & Veterinary Medicine remember Dr Jacobus (Jack) Potter, the renowned physician, scientist and academic.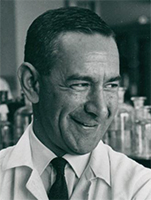 Dr Potter was a student at the University, graduating MBChB in 1948, and became Executive Dean of the then Faculty of Medicine in 1981.
Specialising in rheumatic disease and arthritis, he enjoyed a distinguished career on both sides of the Atlantic. He produced numerous papers and publications, counting among his co-authors a Nobel Prize winner, and was elected a fellow of the Royal College of Physicians in Edinburgh.
Prompted to study medicine by his mother's sudden death while he was a teenager, his first posts included resident surgeon at Leith Hospital and medical registrar and research fellow in the rheumatic diseases unit at the Northern General in Edinburgh.
He spent two years with the medical branch of the Royal Air Force in Cheshire before returning to Edinburgh in 1954. He spent most of the next eight years as a research fellow at the Northern General but also took a two-year spell in research at the pathology department of New York University (NYU) School of Medicine.
The experience led him to emigrate and by 1962 he was back in the US, where he spent almost 20 years working in various roles including for the Health Research Council of the City of New York and as an associate professor and associate dean of NYU's school of medicine.
He made a considerable contribution to medical research there through his involvement with a number of bodies, including the city's Arthritis Foundation, the New York Metropolitan Regional medical programme, and the committee for an Independent Health Systems Agency.
During the 1970s he was also a physician/consultant for the city's Veterans Administration Hospital and was elected a fellow of the American College of Physicians.
His first wife Elizabeth (nee Ross) was also a graduate of the University, receiving her MBChB in 1949. It was following her death in 1979 that Dr Potter returned to Edinburgh and took post at the University.
A talented artist and accomplished classical pianist, his other interests included stamp collecting and corresponding with friends and family. The recipient of his last piece of writing was his three-year-old great granddaughter.
Predeceased three months earlier by his second wife Catherine (nee Matthews), known as Rena, whom he married in 2007, he is survived by his daughters Jane and Dorothy, son James and extended family.
This article was published on