Mike Porter (1946-2013)
Professor Stephen Platt remembers Mike Porter, Senior Lecturer, Centre for Public Health Sciences.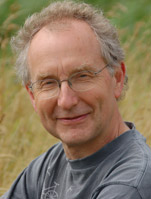 Mike joined the Community Medical Care Research Unit as a researcher in 1970 and became a Lecturer in the Department of Medical Practice in 1971. He was promoted to Senior Lecturer in 1991.
In the 1980s he started a collaboration with John Howie, then Professor of General Practice, on the effect of stress on quality of care, including general practitioner behaviour during the consultation process.
Mike was driven by the determination to provide medical students with a more rounded, multidisciplinary perspective on health, illness and healthcare than they had traditionally received, incorporating social science (especially sociological) concepts and understanding.
He redesigned the curriculum and introduced highly innovative assignments.
The Priorities Exercise provided students with a realistic and entertaining simulation exercise through which they could learn about the principles and processes for evaluating, prioritising and rationing health services in a local setting.
Mike was also co-author of 'Psychology and Sociology Applied to Medicine', a widely used and critically acclaimed textbook for undergraduate medical students.
The book was highly commended in the BMA Book Awards (health and social care category) in 2010.
As demonstrated by the many testimonials that were sent spontaneously to the University after his death, Mike was an inspiration to a whole generation of students, who recognised and appreciated his availability, his compassion, his support and his commitment to inculcating a more holistic appreciation of the patient's world.
Notes
An extended version of this obituary will be published in the autumn edition of 'Bulletin'.
This article was published on