Sula Wolff (1924–2009)
Professor Lorraine Waterhouse remembers Dr Sula Wolff, Honorary Fellow of Psychiatry.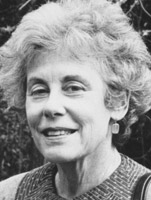 The eminent child psychiatrist Sula Wolff has died aged 85.
She died of myeloid leukemia on 21 September 2009.
A prestigious background
Sula studied medicine at the University of Oxford.
From 1947 to 1955 she held various appointments in Paediatrics.
In 1955 she changed direction and began her training in Psychiatry at the Maudsley Hospital London.
Here she met Henry Walton, whom she married in 1958.
The Royal Hospital for Sick Children
In 1962 Sula and Henry both took up posts in Edinburgh where she began her long association with the Royal Hospital for Sick Children.
There, she became Consultant Child Psychiatrist in 1966.
It was from this base that she undertook the greater part of her research, writing and clinical practice.
A distinguished leader
Sula was one of the founders of modern child psychiatry in post-war Britain.
She was the author of three influential and widely translated books:
'Children Under Stress' (1969 and 1981)
'Childhood and Human Nature: the Development of Personaility' (1989)
'Loners: the Life Path of Unusual Children' (1995)
I was one of countless professionals worldwide whose development was profoundly shaped by her exceptionally clear writing, her encouragement and absolute commitment to the families she treated.
Notes
Professor Lorraine Waterhouse is Professor of Social Work and Vice-Principal of Equality and Diversity at the University of Edinburgh.
This is a preliminary notice.
A full obituary will be published in the Spring edition of Bulletin magazine.
This article was published on