Professor Sir Neil MacCormick (1941-2009)
Zenon Bankowski reflects on the life of Professor Sir Neil MacCormick.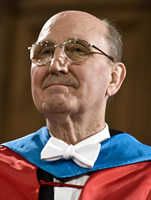 Neil MacCormick was born on 27 May 1941 in Glasgow and died on 5 April 2009 in Edinburgh.
Education
After attending Glasgow High School, Neil continued his education at Glasgow University and then Balliol College, Oxford.
He taught at Dundee University (then part of St Andrews University) and Balliol College before coming to Edinburgh.
Here, he was Regius Professor of Public Law and the Law of Nature and Nations from 1972 to 2007.
Prodigious figure
Neil was a prodigious figure both in the life of the University and beyond.
He died before his time but he had already achieved what most people would have in two lifetimes.
He served from 1999 to 2004 as Member of the European Parliament on behalf of the Scottish National Party.
At the University, he was Provost of the Faculty Group of Law and Social Science and had been a Vice-Principal for International Affairs.
He was Leverhulme Research Professor from 1997 to 1999 and again from 2004 until his retirement.
He was one of the most important legal and political theorists of his generation.
Considerate and generous
On meeting Professor Sir Neil MacCormick, most people were struck not by his stature as a public figure and great intellectual, but by the fact that he was a witty, charming and helpful man.
He wore his distinction lightly and engaged with everyone on an equal footing. He truly had equal concern and respect for everyone.
He was the most considerate and generous of men both in his public and private life.
He died on Palm Sunday, at home with his wife Flora by his side.
At his memorial service, Anne Lorne Gillies sang Robert Burns's great anthem 'A Man's a Man for a' That'. It was a fitting and moving tribute.
Notes
Zenon Bankowski is Professor of Legal Theory at the Centre for Law and Society.
A full version of this obituary will be published in the next edition of Bulletin magazine.
This article was published on