Honorary Professor: David Milner
David Milner has been made an Honorary Professor in the College of Humanities & Social Science.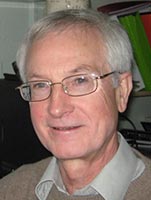 Professor Milner is a cognitive neuroscientist working in the field of visual perception and the visual guidance of action.
His research into the brain mechanisms underlying these visual functions has been chiefly based on behavioural studies of neurological patients with visual or visuomotor disorders.
He has also conducted studies of both healthy and brain-damaged individuals using functional MRI.
Professor Milner was educated first at Lincoln College, Oxford. He gained his PhD and qualified as a clinical psychologist at the Institute of Psychiatry in London.
He worked at the University of St Andrews for almost 30 years in various posts including Head of the Department of Psychology, Dean of the Faculty of Science and Chairman of Psychology.
In 2000 he moved to a research chair at the University of Durham, where he remains an Emeritus Professor.
Professor Milner now lives in Edinburgh. He is a Fellow of the Royal Society of Edinburgh and of the Royal Society of London.
This article was published on