Honorary Professor: Martin J Siegert
Martin J Siegert has been made an Honorary Professor in the School of GeoSciences.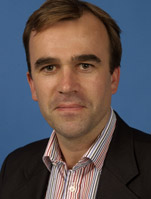 He is Professor of GeoSciences and Director of the Bristol Glaciology Centre at the University of Bristol.
He was formerly Head of the School of GeoSciences and Assistant Principal for Energy and Climate Change at the University of Edinburgh.
Prior to his tenure at Edinburgh he spent four years at Aberystwyth University, followed by seven years at the University of Bristol.
He was educated at Reading University, where he gained his degree in Geological Geophysics, and at Cambridge University, where he was awarded his PhD in the numerical modelling of large ice sheets.
Professor Siegert's research interests are in the field of glaciology.
He uses geophysical techniques to quantify the flow and form of ice sheets now and in the past.
Using airborne radar he has identified and located more than 400 subglacial lakes.
He has discovered ancient pre-glacial surfaces hidden beneath the existing ice and has demonstrated how sub-ice water interacts with the flow of ice above.
He leads the UK Natural Environment Research Council Lake Ellsworth Consortium, which aims to directly measure and explore an ancient subglacial lake in West Antarctica.
Professor Siegert has appeared regularly on national TV and radio to discuss his research.
In 2007 he was elected a Fellow of the Royal Society of Edinburgh.
This article was published on