Personal Chair: Jesper Kallestrup
Jesper Kallestrup has been made a Personal Chair in Mental Philosophy.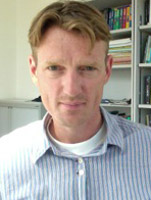 He gained his PhD from the University of St Andrews before undertaking a postdoctoral fellowship at the University of Copenhagen.
From 2005 he was Lecturer, and from 2010 Senior Lecturer, in philosophy at the University of Edinburgh.
Professor Kallestrup holds associate fellowships at the Northern Institute of Philosophy (the University of Aberdeen) and Arché (the University of St Andrews), and has been a visiting fellow at the universities of Oslo, Aarhus, London and Lund.
From 2011 to 2013 he was Head of Subject Area in Philosophy, where he took the lead in establishing EIDYN (the Edinburgh Centre for Epistemology, Mind and Normativity).
He also led on the creation of Philosophy's first (and highly successful) MOOC, and the subject's first taught MSc distance learning programme.
His research interests are primarily at the intersection of philosophy of mind, philosophy of language and epistemology.
He has edited several collections and is the author of 'Semantic Externalism' (Routledge 2011).
He has published more than 30 papers in peer-reviewed journals.
He has supervised 10 doctoral students to completion, all of whom have gone on to have successful careers.
Professor Kallestrup lives in East Lothian with his wife and three small children. Any spare time is spent cycling, running or climbing hills.
This article was published on