Honorary Professor: Iain Whyte
Iain Boyd Whyte has been made an Honorary Professor in Edinburgh College of Art.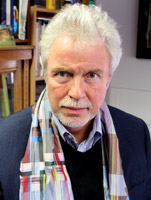 He was appointed Professor of Architectural History in 1996.
He has BA and MPhil degrees from Nottingham University in art history, an MA in German from Leeds University, and a Cambridge PhD.
His books include 'Bruno Taut and the Architecture of Activism' (Cambridge University Press, 1982; paperback 2010), 'The Crystal Chain Letters: Architectural Fantasies by Bruno Taut and his Circle' (MIT Press, 1985), 'Hendrik Petrus Berlage on Style 1886-1909' (Getty Center for the History of Art and the Humanities) and 'Modernity and the Spirit of the City' (Routledge, 2003).
Among his recent publications are 'Beyond the Finite: The Sublime in Art and Science' (Oxford University Press, 2011, co-edited with Roald Hoffmann, 1981 Nobel Prize for Chemistry laureate), and 'Metropolis Berlin: 1880-1940' (University of California Press, 2012).
Active over many years as a translator, he launched the e-journal 'Art in Translation' (Bloomsbury) in 2009.
A former Fellow of the Alexander von Humboldt-Stiftung and a Getty Scholar, Professor Whyte was co-curator of the Council of Europe exhibition Art and Power, shown in London, Barcelona and Berlin in 1996-97.
He has served as a Trustee of the National Galleries of Scotland, is a Fellow of the Royal Society of Edinburgh, and currently Chair of the International Association of Research Institutes in the History of Art ( RIHA).
This article was published on