Honorary Professor: Antony Duff
Antony Duff has been made an Honorary Professor in the School of Law.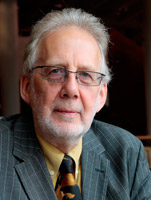 Currently a visiting professor at the School of Law, and a tenured professor at the University of Minnesota Law School, Professor Duff taught at the Philosophy Department of the University of Stirling from 1970 until 2009.
Professor Duff's research has focused on philosophical issues in criminal law, including the philosophy of punishment, the scope and structure of the criminal law, and the criminal process.
He is a Fellow of the Royal Society of Edinburgh and a Fellow of the British Academy for the Humanities and Social Sciences.
The main focus of Professor Duff's recent research has been a four-year project, funded by the AHRC, with colleagues from the Universities of Glasgow, Stirling and Warwick, working towards a normative theory of the proper scope and structure of the criminal law.
He completed his undergraduate and postgraduate studies at the University of Oxford.
This article was published on