Honorary Professor: Marion Bain
Professor Bain graduated BSc (Hons) Pharmacology from the University of Edinburgh in 1986 and MBChB in 1988.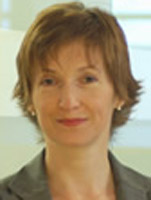 Marion Bain has been made an Honorary Professor in the College of Medicine & Veterinary Medicine.
Following several years in hospital posts she trained in public health medicine.
She obtained an MSc in Community Health from the University of Edinburgh in 1993.
After some years as a Consultant in Public Health Medicine her career developed into medical leadership and management.
In 2009 she was appointed Executive Medical Director of NHS National Services Scotland.
She has been an Honorary Clinical Senior Lecturer at the University of Edinburgh School of Clinical Sciences and Community Health since 2000.
She has significantly developed the infrastructure and use of Scottish national datasets and record linkage in research.
She has personally published on a wide range of topics making use of national data, including aetiology of schizophrenia, outcomes for low birthweight babies, and disability prevalence.
Professor Bain is the Executive Lead for research within National Services Scotland.
She is a Fellow of the Faculty of Public Health and has a longstanding interest in tackling health inequalities within Scotland.
She is married with two children.
This article was published on