Honorary Professor: Alan McNeilly
Professor McNeilly has a BSc from the University of Nottingham, a PhD from the University of Reading and a DSc from the University of Edinburgh.
Alan McNeilly has been made an Honorary Professor in the College of Medicine & Veterinary Medicine.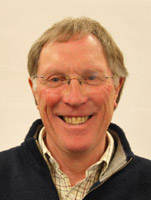 He is a Fellow of the Royal Society of Edinburgh and the Society for Biology.
Professor McNeilly is a basic scientist working in reproductive endocrinology.
He has worked in Edinburgh for the past 36 years in the Medical Research Council Human Reproductive Sciences Unit, now the MRC Centre for Reproductive Health.
His lifelong interest has been to understand how the pituitary gland in the brain controls ovarian function.
These studies uncovered the mechanisms whereby breastfeeding suppresses fertility in women and other species.
They revealed the role that growth factors, changes in microvasculature, and gene mutations play in enhancing and suppressing fertility.
He has worked with many excellent scientists and clinicians locally and internationally.
He runs a series of public lectures at the Queen's Medical Research Institute. These discuss clinical problems faced by patients and the research undertaken by the University to enhance treatments.
His research includes studies on the reproductive endocrinology in many species from humans through to meerkats and elephants.
This article was published on