Roadshows to focus on learning and teaching
Staff are encouraged to attend roadshows about the University's Learning and Teaching Vision.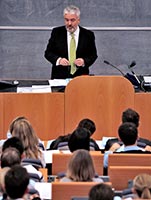 The vision will guide developments in learning and teaching for the next 10 years, and the roadshows are part of a year-long process of consultation.
Taking place on 16 and 22 January and 3 February, the events will be coordinated by Professor Sue Rigby, Vice-Principal Learning and Teaching. Places can be booked through MyEd.
Consultation
Over recent years, the University has undertaken strategic projects to enhance students' academic and pastoral support and broader student services.
The University is now focusing on learning and teaching, and during 2014-15 there is an extensive process of consultation with staff and students on developing its vision.
Professor Rigby is holding meetings with schools, colleges and support services to introduce and discuss the draft vision, and discussions are taking place with EUSA about consultations with students.
The roadshows are a key part of the dialogue around how we imagine teaching and learning in the University. It is a chance for all staff to have an input into defining this future direction.
The hour-long roadshows are open to all staff. They will be held at the Central Area, King's Buildings and Little France campuses.
Related Links
Developing a Learning and Teaching Vision
This article was published on