Appointment: Tharmalingam Ratnarajah
Professor Tharmalingam Ratnarajah has been appointed Personal Chair of Digital Communications & Signal Processing in the College of Science & Engineering.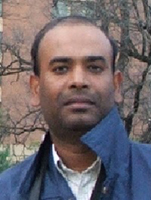 Professor Ratnarajah is currently working with the Institute for Digital Communications in the School of Engineering.
Career
Professor Ratnarajah holds BEng, MSc and PhD degrees. He has previously worked at Queen's University Belfast and at both the University of Ottowa and McMaster University, in Canada.
Since 2004, he has secured 14 research projects worth around £4 million from the Engineering and Physical Sciences Research Council (EPSRC), the European Union's Seventh Framework Programme for Research and Technological Development (FP7), the British Council and industry. He is currently coordinating two FP7 projects with total funding in excess of €5 million.
Research
Professor Ratnarajah's research interests include signal processing and information theoretic aspects of 5G wireless networks, full-duplex radio, millimetre wave communications, random matrices theory, interference alignment, statistical and array signal processing and quantum information theory.
He has published more than 250 times in these areas and holds four US patents. He has previously supervised 13 post-doctoral research associates and many research engineers while working in industry. He has successfully supervised more than 10 researchers to PhD graduation.
Professor Ratnarajah is a Fellow of the Higher Education Academy (FHEA), a senior member of the Institute of Electrical and Electronics Engineers (IEEE) and an associate editor of IEEE Transactions on Signal Processing.
This article was published on