Summer 2015 Edit published
The summer 2015 edition of Edit, the University's alumni magazine, is now available online and for download from the Apple, Google Play and Amazon stores.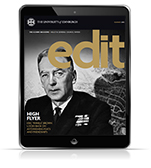 There are interviews with fascinating alumni, including heroic test pilot Eric 'Winkle' Brown and astronomer Anneila Sargent, and regular features such as The Two of Us and Landmark.
This digital-only edition makes prominent use of multimedia, including video conversations between current students and alumni.
Staff are invited to visit Edit online, download the apps, share and promote articles, and add comments. Alumni who have not received communications about Edit are encouraged to make sure that an email address is associated with their alumni records, via contact with Edit or Development & Alumni, or through the MyEd alumni portal.
Related Links
This article was published on