Appointment: Lewis Ritchie
Professor Sir Lewis Ritchie OBE has been appointed Honorary Professor in the College of Medicine & Veterinary Medicine.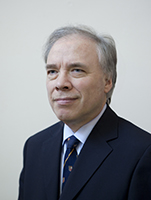 Professor Ritchie is the James Mackenzie Professor of General Practice at the University of Aberdeen, a post he has held since 1992.
He is a former director of public health at NHS Grampian and previously served as GP Principal at Peterhead Health Centre and Community Hospital.
Research
Professor Ritchie's research and development interests include cardiovascular prevention, immunization, ehealth and telecare, and the development of new models of prevention and healthcare delivery.
He also has a particular interest in clinical professionalism and leadership.
Professor Ritchie has published a number of national reports and is the author of the book Computers in Primary Care.
Contribution
Professor Ritchie holds chemistry and medical degrees from the University of Aberdeen and a degree in community medicine from the University of Edinburgh.
He has contributed to the NHS in Scotland in a number of capacities and chaired several national advisory committees to the Scottish Government, including the Scottish Medical and Scientific Advisory Committee (SMASAC).
He has received a number of professional awards for his contributions, including the Perry Prize of the British Computer Society and the Elder Medal of the Royal New Zealand College of General Practitioners.
In 2001, he was appointed OBE for services to primary care and was subsequently knighted in 2011 for services to the NHS in Scotland.
Related Links
This article was published on