Appointment: Lewis Allan
The University has appointed Dr Lewis Allan as Head of Court Services.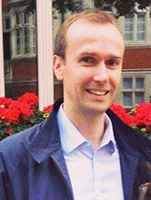 Dr Allan is currently the Governance Manager at the University of Strathclyde.
He previously specialised in higher education policy in the UK Civil Service in the Department for Business, Innovation and Skills.
He will take up his position, based within the University Secretary's Group (USG), on 16 September 2015.
Dr Allan will succeed Katherine Novosel, who retires in early August 2015.
"I am looking forward to joining the University of Edinburgh and working with colleagues in Court Services and across the institution to contribute to the effective governance of the University."
Governance
Dr Allan will support the University Secretary in her responsibilities to Court and in the strategic development of the University's governance processes and structures.
He will also work closely with the University Secretary and other senior staff on governance, to ensure that strategic, compliance and statutory responsibilities are transparently and appropriately communicated to and considered by Court and its committees.
Remit
USG is one of three administrative support groups in the University.
It provides support and professional leadership across the University and plays a key role shaping the student journey from first enquiry to graduation and beyond.
Related Links
This article was published on