Appointment: Juliet Kaarbo
The School of Social & Political Science has appointed Professor Juliet Kaarbo to a Personal Chair in Foreign Policy.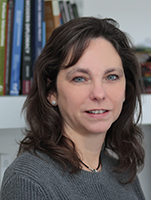 Professor Kaarbo is co-director of the Centre for Security Research and is postgraduate advisor for politics and international relations.
She has been the recipient of several research grants and has won awards for her conference papers and for postgraduate mentoring.
Research
Professor Kaarbo's research focuses on political psychology, leadership and decision-making, group dynamics, foreign policy analysis and theory, parliamentary political systems and national roles.
She has been published in International Studies Quarterly, the European Journal of International Relations, International Studies Review, International Perspectives, Political Psychology, Cooperation and Conflict, International Interactions, Foreign Policy Analysis, the Journal of International Relations and Development, European Security and Leadership Quarterly.
Professor Kaarbo has been associate editor of Foreign Policy Analysis since 2013. She is the author of Coalition Politics and Cabinet Decision Making: A Comparative Analysis of Foreign Policy Choices, which was published by the University of Michigan Press in 2012.
Biography
Professor Kaarbo studied political science at the University of Oklahoma and then at Ohio State University where she gained her PhD.
She first joined the University of Edinburgh in 2011 as senior lecturer in politics and international relations.
Her previous posts include roles at the Graduate Institute of International Studies in Geneva and the University of Kansas. She was also a visiting research fellow at Bilkent University, Turkey.
Professor Kaarbo was an invited witness for committees in the House of Commons (2013) and the Scottish Parliament (2014) on the topic of an independent Scotland's foreign policy.
Related Links
This article was published on