Professor named Impact Champion
Professor Charlie Jeffery, Senior Vice-Principal, has been named Impact Champion of 2015 by the Economic and Social Research Council (ESRC).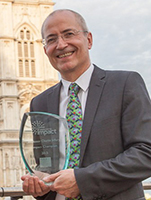 Professor Jeffery received the top accolade in the annual Celebrating Impact prizes for ESRC-funded researchers, at a ceremony in London.
In a night of double success for Edinburgh, Professor Richard Harrison of the Business School won the prize for Outstanding Impact in Business jointly with his University of Glasgow colleague Professor Colin Mason.
Transformative role
Professor Jeffery was praised in particular for his work on the 2014 Scottish independence referendum, but also for his "long-term commitment over successive research initiatives to maximising impact opportunities for his own research and that of colleagues and collaborators".
It is no exaggeration to say that Charlie Jeffery has played an utterly transformative role – transforming both opportunities and attitudes towards impact – among a whole cadre of academics across the UK, myself among their number.
Impact highlights
The awards judging panel highlighted the following impacts of Professor Jeffery's work:
As Director of the ESRC Devolution and Constitutional Change Programme, he ensured the impact of 150 researchers by building relationships with key research users, including think-tanks and official commissions.
He advised the Commission on Scottish Devolution (2008-9) and the Scotland Bill Committee of the Scottish Parliament (2011-12) and served as a member of the McKay Commission on the West Lothian Question (2012-14).
He co-ordinated the ESRC Future of UK and Scotland programme, whose 60-strong research team was a key source of expertise for business, media, the voluntary sector and the general public.
In the run-up to the Scottish independence referendum, his research team provided analysis and commentary to news platforms that reached an audience of tens of millions.
Business angels
Professor Harrison and his research collaborator Professor Mason jointly won first prize in one of the awards' five main categories, for their role in developing the UK's successful "business angel" investment sector.
The ESRC said their work had "over the past 25 years played a crucial role in stimulating business angel investment worth £750 million a year in the UK and ensuring government support for this key source of entrepreneurial finance".
Related Links
This article was published on