Appointment: Steven Caldwell
Steven Caldwell has been appointed Honorary Professor in the College of Medicine & Veterinary Medicine.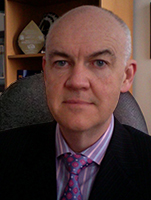 Professor Caldwell is Professor of Medicine in the Division of Nephrology and Transplant Immunology and Assistant Chair of Undergraduate Medical Education at the University of Alberta.
He is Student Mentor for the Scottish-Canadian Medical Programme, a collaboration between the universities of Edinburgh, St Andrews and Alberta, and he is Overseas Regional Adviser for Canada for the Royal College of Physicians of Edinburgh.
Current work
Professor Caldwell's research interests include diabetes and diabetic kidney disease, pregnancy and kidney disease, hypertension, lupus nephritis, and medical education.
He is a Consultant Physician at the University of Alberta Hospital with responsibility for inpatient and outpatient care, haemodialysis, peritoneal dialysis, renal transplant, satellite haemodialysis, and emergency triage and treatment of renal patients. He is also Director of the Westlock Dialysis Unit.
He is a member of the Medical Council of Canada, and is a Fellow of the Royal College of Physicians of Edinburgh. He is an Examiner for the Royal College of Physicians & Surgeons of Canada, Chief Examiner in Edmonton for the Alberta International Medical Graduate Programme, and an examiner in the Practical Assessment of Clinical Examination Skills for the Royal College of Physicians of Edinburgh.
Biography
Professor Caldwell received his medical degree from the University of Edinburgh, and a diploma in medical science from the University of St Andrews. He also attended Queen's University, Kingston, Ontario, and holds a BSc from the University of Toronto.
He is board certified in Internal Medicine and Nephrology by the Royal College of Physicians & Surgeons of Canada. He is a former Visiting Consultant Nephrologist for the Myrtle Rigby Health Authority of the Turks & Caicos Islands.
Professor Caldwell has authored or co-authored articles published in several peer-reviewed journals, such as Transplantation Proceedings, the American Journal of Kidney Disease and the Journal of Invertebrate Pathology.
Related Links
This article was published on