Appointment: Andrew Elder
Andrew Elder has been appointed Honorary Professor in the College of Medicine & Veterinary Medicine.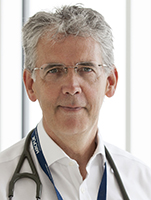 Professor Elder is Medical Director of MRCP(UK), which provides postgraduate examinations in internal medicine and its specialties to 25,000 candidates a year globally.
He was previously Chair of the Clinical Examining Board for the MRCP(UK) Practical Assessment of Clinical Examination Skills (PACES) examination, the largest international postgraduate clinical skills assessment in the world.
He has held a number of positions in undergraduate and postgraduate medical teaching and assessment, and has personally taught or assessed bedside clinical skills in 20 countries.
He has been a consultant in the National Health Service since 1993 and is currently a Consultant Physician in Acute Medicine for Older People at the Western General Hospital in Edinburgh.
Bedside medicine
Professor Elder is an advocate for the need to ensure that the core bedside skills of communication, physical examination and clinical judgement remain central to the education and training of young doctors.
Since 2013 he has worked with Professor Abraham Verghese at Stanford University Medical School, where Professor Elder is a Visiting Professor, on the innovative Stanford 25 Bedside Medicine Programme.
Professor Elder gained his BSc and MBChB degrees from the University of Edinburgh. Married with two grown-up sons, he lives in his native Edinburgh, and enjoys fly fishing.
Related Links
This article was published on