Annual Review now online
The Annual Review 2013/14 is now available online and in hard copy.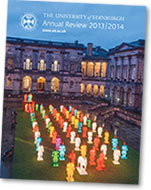 The Review outlines the work of the University over the last academic year, and highlights important areas of activity.
It can be downloaded, and viewed online, along with the year's highlights in pictures and video.
Hard copies of the Review are available on request from Communications and Marketing.
Communications and Marketing
Contact details
Address
Street

Old College
South Bridge

Post Code

EH8 9YL
Related Links
Annual Review
This article was published on