Personal Chair: Stana Nenadic
Stana Nenadic has been made a Personal Chair in Social History and Cultural History.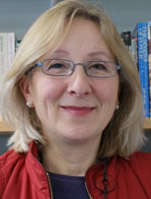 She gained her PhD from the University of Glasgow in 1986 and undertook a post-doctoral fellowship in entrepreneurship studies at the University of Stirling.
She was appointed to a lectureship in the Department of Economic and Social History at the University of Edinburgh, and subsequently promoted to Senior Lecturer.
She has served as Head of Department and Director of Graduate Studies in the School of History, Classics and Archaeology.
She has supervised more than 20 doctoral students.
Professor Nenadic was a Commissioner of the Royal Commission on the Ancient and Historical Monuments of Scotland from 2000 to 2010.
Her research is focussed on the social, cultural and economic life of the middle class, gentry, professionals and business owners since the eighteenth century, mainly with reference to Scotland, with a parallel interest in the material and visual cultures of the past.
She has held major research grants from the ESRC, AHRC and Royal Society of Edinburgh.
Her current Leverhulme-funded three-year project is titled 'Artisans and the Craft Economy in Scotland c.1780-1914'.
She has an interest in knowledge exchange and collaborative working with museums and has recently co-curated an online exhibition and catalogue of 19th-century printed cotton textiles for the National Museums Scotland.
This article was published on