Honorary Professor: Mark Strachan
Mark Strachan has been made an Honorary Professor in the College of Medicine and Veterinary Medicine.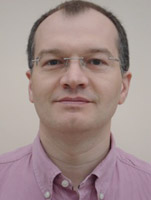 He is Associate Medical Director and Consultant Physician in Endocrinology and Diabetes, Western General Hospital, Edinburgh.
He graduated from the University of Edinburgh with BSc (Hons) in 1990 and MBChB (Hons) in 1992.
He was awarded an MD by the University of Edinburgh in 2001 for studies on recovery from acute hypoglycaemia in adults with Type 1 diabetes.
He was appointed a consultant physician at the Western General Hospital in 2002 and became a Fellow of the Royal College of Physicians of Edinburgh in 2004.
He has a busy clinical practice with a particular interest in endocrine oncology.
His major research interest is in cognitive impairment in Type 2 diabetes and he is one of the principal investigators of the Edinburgh Type 2 Diabetes Study.
He has published more than 100 original articles and book chapters.
He gave the RD Lawrence lecture at the 2010 Diabetes UK Annual Professional Conference.
He is a member of Council of the Royal College of Physicians of Edinburgh.
He has been a trustee of the British Thyroid Foundation since 2009 and is co-founder and trustee of the Ann Edgar Charitable Trust, which provides help and support to patients with neuroendocrine tumours and their carers.
Related Links
This article was published on