RAEng Fellow: Chris Hall
Professor Chris Hall has been elected a Fellow of the Royal Academy of Engineering.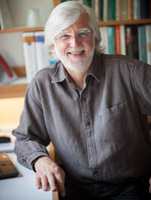 The honour reflects his achievements in the field of materials engineering.
Professor Hall developed the standard theory of water transport in concrete and masonry materials and structures.
His work has had worldwide impact on concrete engineering and mass-transfer analysis for building design.
He applied new synchrotron X-ray and magnetic resonance methods to image fluid transfer processes in concrete and in oilfield rocks.
He also led research and new technology development in drilling fluids and oilwell cementing at the oilfield services company Schlumberger.
At Edinburgh, where he was Professor of Materials in the School of Engineering from 1999 until 2010, he led engineering research on materials at extreme conditions.
Professor Hall is currently Professor Emeritus and Senior Professorial Fellow in the School.
Election to the Academy of Engineering is by invitation only, with up to 60 Fellows elected each year from nominations made by existing Fellows.
Related Links
This article was published on