Personal Chair: Rachel Wood
Rachel Wood has been made a Personal Chair in Carbonate Geoscience.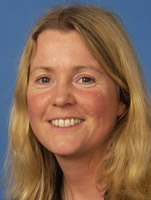 Professor Wood is a geologist with research interests in carbonate sedimentology, diagenesis and reefs.
She has a degree in geology/zoology from the University of Bristol and a PhD from the Open University.
She held a series of postdoctoral research fellowships working on the evolution of carbonate platforms.
The first of these was based at the Institut für Palaontologie, Freie Universitat, Berlin on a Royal Society European Exchange Programme.
She then held several fellowships at the University of Cambridge, including a NERC Research Fellowship, a Research Fellowship at Gonville and Caius College, and finally a Royal Society University Research Fellowship.
From 2001-2006 Professor Wood worked as a Principal Research Scientist at Schlumberger Cambridge Research.
In 2006 she joined the University of Edinburgh's School of GeoSciences as a Lecturer in Carbonate Geoscience, and was promoted to Reader in 2009.
From 2010 Professor Wood became Co-Director of the International Centre for Carbonate Reservoirs, a strategic research alliance with Heriot-Watt University.
Her recent work has been focussed on understanding flow in carbonate subsurface reservoirs, and also on strata exposed in the Nama Group, Namibia, in order to understand the role of oxygenation, changing ocean chemistry and evolutionary escalation at the onset of biomineralisation some 550 million years ago.
Professor Wood is the author of 'Reef Evolution' (1999), published by Oxford University Press.
This article was published on