Chancellor's awards winners
Three members of staff have been honoured by the University for their contribution to teaching and research.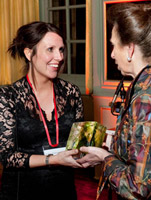 Professor Jamie Davies, Professor Igor Rudan and Dr Eve Hepburn all received Chancellor's Awards at a gala dinner.
Teaching innovations
Jamie Davies, Professor of Experimental Anatomy in the Centre for Integrative Physiology, received the Teaching Award.
The award was made in recognition of his teaching of medical students, and in particular innovations he has developed in giving students feedback.
These improvements have been well received by students, whose nominations led to him winning the Robert Kendell Prize for Teaching in Medicine in 2012 in the EUSA Teaching Awards.
Research excellence
Igor Rudan, Chair in International Health and Molecular Medicine for the Centre for Population Health Sciences, received the Research Award.
Professor Rudan is at the forefront of three fields in medicine: genetic epidemiology, international health and protein glycosylation.
Since 2008, he has published 150 papers, of which 39 are in four-star journals in the medical field including 'Nature', 'Cell', and 'the Lancet'.
Exciting potential
Dr Eve Hepburn, Senior Lecturer in Politics and International Relations and Depute Director of the Academy of Government, received the Rising Star award.
This award honours a University of Edinburgh academic who has demonstrated great potential.
Dr Hepburn was nominated for the award in recognition of her contributions to both research and teaching.
She has been a driving force in the conception, design and initial delivery of teaching in the Masters of Public Policy, the first degree of its kind in the UK.
She has also played an important role in establishing the Academy of Government.
Related Links
This article was published on