Chancellor's Awards winners
Three members of staff have been honoured by the University for their contribution to teaching and research.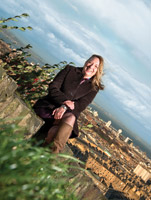 Professor Sue Welburn, Professor Mark Bradley and Dr Dominic Johnson all received Chancellor's Awards at a gala dinner at Holyroodhouse.
Their awards were presented by the University's new Chancellor, HRH The Princess Royal.
Research impact
Mark Bradley, Professor of High-Throughput Chemistry, received the Chancellor's Award for Research.
The scientist, who joined the University in 2005, steers one of the world's leading high-throughput chemistry research groups.
In 2010, he co-founded the spin-out companies Deliverics and DestiNA.
The quality and quantity of Professor Bradley's body of work on chemical biology is of the very highest international class, influencing many others around the world.
Teaching excellence
Sue Welburn, Professor of Medical and Veterinary Molecular Epidemiology, was awarded in the teaching category.
Professor Welburn, who is also Director of the University's Global Health Academy, has developed research-led distance learning strategies to engage veterinarians and scientists in developing countries.
She has supervised more than 35 PhD and research masters students.
Rising star
Dr Dominic Johnson, Reader in Politics and International Relations, was presented with the Rising Star Award, which identifies an academic who has demonstrated great potential.
Dr Johnson researches the influence of human biology, evolution and behaviour upon politics and international relations.
His work has attracted significant grant funding to the University and has been published in both science and social science journals.
This article was published on