Experts begin £1m quest for 4G technology
British and Chinese experts working on next generation mobile phone technology have received £1 million for the project.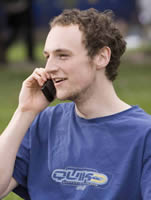 The UK-China Science Bridge, a collaboration between six British universities and a consortium of Chinese universities and businesses, has been awarded £939,623 of Government money.
The grant will fund research into 4G wireless mobile communications over the next three years.
Provided by Research Councils UK, the money will pay for scientists' visits to universities and businesses in Britain and China.
It will also pay for technical workshops in which researchers and engineers will learn about each others' work and have the opportunity to forge new partnerships.
Wireless communications at the Olympics
Researchers say the project will lead to quicker production of the next generation of mobile phones and other wireless communications devices, with new technology becoming available in products and services at an increasing pace.
The project's work will include trying to understand better the role that wireless technologies played in the Beijing Olympics, so that the London Games in 2012 might benefit.
The work this award will fund will build on our years of experience collaborating on mobile systems research with other universities and enterprises under the Mobile VCE partnership.
The six British Universities taking part are Heriot-Watt University, the Universities of Edinburgh, Bristol, Southampton and Bedfordshire, and University College London.
The Chinese partners include China Mobile, Huawei and Tsinghua University.
This article was published on