Directors
The Director and four deputy directors provide leadership at the Institute.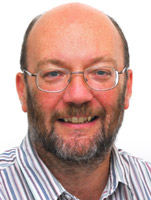 Director
Professor Bruce Whitelaw is Director of the Roslin Institute and Professor of Animal Biotechnology.
Professor Whitelaw was Head of Division of Developmental Biology at the Institute for 12 years.
His world-renowned research group focuses on establishing robust methodologies for genome-editing livestock for biomedical and agricultural applications.
Deputy Director (Research)
Professor Mark Stevens provides leadership with regard to the Institute's research strategy and activities.
Professor Stevens is Personal Chair of Microbial Pathogenesis.
His research group focuses on animal and zoonotic diseases, as well as bacterial pathogenesis.
Deputy Director (Culture and Equality)
Professor Jayne Hope provides leadership in promoting equality, diversity and inclusivity at the Institute.
Professor Hope is Personal Chair of Immunology.
Her research group focuses on innate immune responses to Mycobacteria and other bovine pathogens.
Deputy Director (Translation and Commercialisation)
Dr Tom Wishart provides leadership regarding the Institute's translation and commercialisation activities, and engagement with industry and international organisations.
Tom is Reader in Molecular Anatomy. His research group focuses on understanding the molecular mechanisms governing stability of the nervous system in health and disease.
Deputy Director (Emergence and Impact)
Professor Paul Digard assists the Director in identifying and evaluating emergent opportunities and provides leadership regarding the Institute's response to these.
Professor Digard is Chair of Virology and his research group focuses on replication and pathogenesis of influenza viruses. He co-ordinates the Institute's Covid-19 research response.
This article was published on