Personal Chair: Philippa Saunders
Philippa Saunders has been made a Personal Chair in the College of Medicine & Veterinary Medicine.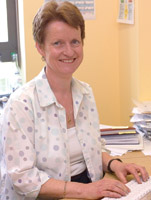 She gained her PhD from the University of Cambridge before undertaking postdoctoral fellowships at the University of Florida and London's Institute of Zoology.
In 1989 she established her own laboratory in Edinburgh.
She was made an Edinburgh Honorary Professor in 2006, served as Head of the Centre for Reproductive Biology from 2007 to 2011, and was Director of the MRC Centre for Reproductive Health from 2011 to 2012.
In 2012 she was appointed Dean of Postgraduate Research for the College of Medicine & Veterinary Medicine.
Her research portfolio has included seminal studies on the role of sex steroid hormones and the mechanisms that control the formation and function of the reproductive system in both men and women.
Her current studies are focused on determining how steroids regulate tissue regeneration, vascular function and inflammation within a classical sex steroid target tissue, the endometrium, as well as disorders such as endometriosis and cancer.
Professor Saunders has a strong track record in mentorship.
She has supervised more than 50 PhD and MSc students, all of whom have gone on to have successful careers.
She is a member of the MRC Physiological Systems Medicine Board, a Fellow of the Academy of Medical Sciences and has published some 200 papers.
Related Links
This article was published on