The Arnold Berliner Award: Mark Young
Dr Mark Young, of the University's School of Biological Sciences, has been awarded the first Arnold Berliner Award.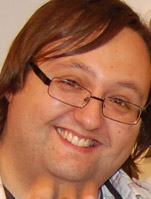 The award was established in recognition of the founding editor of Springer's journal 'Naturwissenschaften - The Science of Nature', which celebrates its 100th anniversary this year.
The award will be given annually for the best research article published in the journal during the previous calendar year.
Dr Young's paper, published in 'Naturwissenschaften', proposed that the unusual dentition of the dinosaur Diplodocus demonstrated adaptation for food procurement.
It suggested that Diplodocus had a skull over-engineered for muscle-driven biting alone, rather than high mechanical bite force.
This discovery was made possible through Dr Young's use of computed tomographic scanning of a fossil specimen of a D. longus skull and subsequent modeling of its biomechanics of feeding.
Related Links
This article was published on