Honorary Professor: Doug Benn
Doug Benn has been made an Honorary Professor in the School of GeoSciences.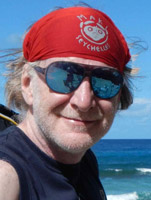 He is Professor of Glaciology at the University Centre in Svalbard, Norway, and at the University of St Andrews.
He obtained his PhD from St Andrews in 1990.
He has subsequently conducted glaciological and geomorphological research in many parts of the world, including the Himalayas, the Alps, Iceland, Svalbard, and North and South America.
His recent research focuses on the response of glaciers to climate change, the dynamics of calving and surging glaciers, the late Precambrian 'Snowball Earth' glaciation, and exploring glacial drainage systems via glacio-speleology (ice caving).
He has published more than 100 peer-reviewed papers and book chapters on many aspects of glacier science and is co-author of the popular textbook 'Glaciers and Glaciation' (2010, Hodder).
This article was published on