Honorary Professor: Adam Cumming
Adam Cumming has been made an Honorary Professor in the School of Chemistry.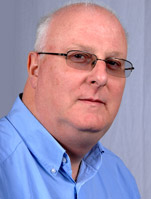 He obtained both his degrees in chemistry from the University of Edinburgh.
He joined MOD research in 1976 and has worked on energetic materials since then. He is now Capability Advisor to MOD, and is based in the Defence Science and Technology Laboratory.
Dr Cumming is an established world expert in the field with current particular interests in environmental issues and in the design of new materials. He has worked with Edinburgh in researching high-pressure studies of explosives.
He works closely with scientists in the UK and overseas on joint programmes of research, chairing some. He represents the UK in several areas.
He has carried out technical audits of research overseas, and chairs the scientific committee of a long-standing international seminar in the Czech Republic.
Dr Cumming has received scientific awards in Europe and from NATO. He sits on the editorial boards of international journals.
He has been a visiting lecturer at Imperial College and at the universities of Hyderabad, Pardubic, Edinburgh and others in Singapore.
He is a Fellow of the Royal Society of Chemistry, an Honorary Fellow of the High Energy Materials Society of India, and a Fellow of the Society of Antiquaries of Scotland.
This article was published on