Sustainability Awards ticket news
Colleagues can now reserve tickets for the 2014/15 Sustainability Awards ceremony on Wednesday 22 April 2015.
The ceremony will take place in the Playfair Library at Old College.
Canapés and refreshments will be served from 12pm and the formal awards ceremony will begin at 1pm.
Showcase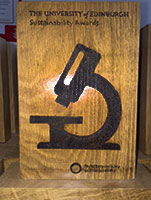 The Department for Social Responsibility and Sustainability has run the annual Sustainability Awards in conjunction with EUSA since 2010.
The awards recognise the efforts of staff and students to make the University more socially responsible and sustainable.
This year, a Sustainability Showcase before the formal ceremony will highlight the work of environmental and charitable organisations from across Edinburgh.
Exhibitors will include Home Energy Scotland, Creative Carbon Scotland, Changeworks, Grassmarket Community Project, Vegware and Sustrans.
Related Links
Social Responsibility and Sustainability
This article was published on