Appointment Catrin Tilley
The University has appointed Catrin Tilley as the Interim Executive Director of Development & Alumni.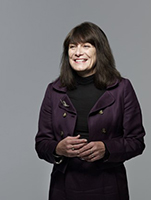 Ms Tilley is currently a Partner with More Partnership, and was previously Director of Development at the University from 1996 to 2003.
She will take up her position in September 2015, working 2.5 days per week until early 2016 when it is expected the post will be filled permanently. A professional search firm will be conducting the recruitment process starting later this month.
Ms Tilley will succeed Kirsty Macdonald, who is leaving the University to take up the new post of Director of Development - University College Relations, at the University of Cambridge in October 2015.
"It has been a great privilege to work for the University and lead the team following the success of the £350m campaign. During this period we have seen increased results year-on-year, the delivery of a data-driven business plan, significant progress growing the major gifts programme, and the internationalisation of our fundraising. We are well poised for the launch of the next campaign, planned for late 2016."
Experience
Ms Tilley has more than 30 years of experience in fundraising and marketing. As a consultant she works with a wide range of clients in higher education, the arts and the health sector.
She worked at the National Galleries of Scotland for nine years as the Director of Development and then latterly as Director of External Affairs. Prior to moving to Scotland she was Deputy Director of Comic Relief for two Red Nose Day campaigns.
"I am looking forward to returning to the University of Edinburgh and building upon the excellent work of Kirsty and her colleagues in leading a programme of increased philanthropy to support the University's global ambitions."
Remit
Working in close partnership with the Senior Vice Principal, Ms Tilley will be responsible for the continued development of the fundraising and alumni business plan and its implementation.
Development & Alumni's overall role is to work with the academic community to engage alumni, friends, companies and trusts in the life of the University.
The team is responsible for sustaining a lifelong relationship with our worldwide alumni community of more than 200,000 graduates and for raising funds to support students and the University's research and teaching activities.
Related Links
This article was published on