Appointment: Andrew Farrall
Andrew Farrall has been appointed Honorary Professor in the College of Medicine & Veterinary Medicine.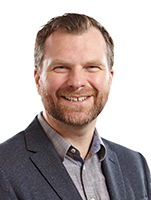 Professor Farrall is Programme Director of the online distance learning MSc programmes Neuroimaging for Research, and Imaging.
Clinical work and research
Professor Farrall is a stroke-focused neuroradiologist at the Brain Research Imaging Centre within the Centre for Clinical Brain Sciences, and at the Department of Clinical Neuroscience at NHS Lothian.
His main research interest is in how imaging can be applied to the investigation of stroke, small vessel disease and the ageing process.
Biography
Professor Farrall has a BSc in Physics and Chemistry from his hometown's University of British Columbia, in Vancouver, which he followed with an MSc in Medical Physics at the University of Western Ontario.
He completed his medical training at the University of Calgary in Alberta, and a diagnostic imaging residency at Dalhousie University in Halifax, Nova Scotia.
He arrived at the University of Edinburgh in 2002 to complete a neuroradiology fellowship and stayed on to pursue research and develop educational tools.
Related Links
This article was published on